Plantation Oak Decking
With decking season upon us and the continuing constraints affecting the supply of native Decking species like Blackbutt and Silvertop Ash, it's assuring to know Bowens can offer an alternative in Plantation Oak Decking.
Plantation Oak is a trade name for a range of timber Decking and Cladding produced from the Australian species Eucalyptus Grandis. It is also commonly known as Rose Gum or Flooded Gum. Plantation Oak is sourced from sustainably managed forests in Uruguay and comes with Forest Stewardship Council (FSC) certification.
What makes this oak decking unique is that it is H3 preservative treated with Tru-Core. The treatment is a penetrating Azole clear water-based wood preservative that offers protection against insect and fungal decay. The H3 treatment level ensures its suitability for external use above ground. It should be noted that H3 treatment is not a protective coating against weathering.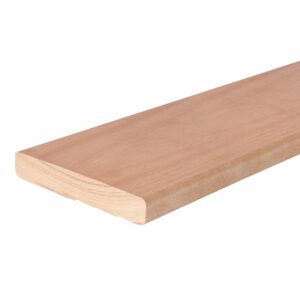 Plantation Oak Decking 125x22mm H3
From $12.20 per lineal metre 
Plantation Oak Decking has a light pinkish-brown tone and is predominantly straight-grained timber with some back-sawn boards that will highlight the grain. This lighter hardwood makes it a good alternative to other blonde decking species. The decking board size is 125mm x 22mm which offers better cross-sectional stability compared to wider and thinner size decking boards.
All timber decks will perform better when they are maintained with ongoing protective coatings and Plantation Oak is no different. Annual coatings are important to keep your deck looking fresh and protected. It is important that the decking is sealed on all sides prior to installation. I would highly recommend ordering all your decking from Bowens with our factory pre-coat on all sides for the best start to the installation. This immediately helps minimise any moisture absorption.
Another benefit of the Plantation Oak Decking is its availability in set lengths, these range from 1.8m to 4.9m. Not only can a deck look cleaner in one length, but there is also the advantage of avoiding butt-join fixings.
As always, Decking Installation guidelines need to be followed. Bear in mind all timber will expand and contract in relation to its direct environment. If your deck is low to the ground, then the gap spacing should be increased from the minimum 6mm to approximately 8mm. This will prevent the board edges from coming together and allow rain to drain through. Always design the subdeck area with ventilation in mind, a cross-flow of air able to enter from one side and exit at another is crucial to allow this area to dry after rain.
Drainage is the other important factor for good deck performance. Water needs to be diverted away from the subdeck space so it cannot pool there. Protect your deck early and have the decking pre-coated and maintain coatings. Use a joist membrane under the decking to help fixings hold better in dry joists.
Plantation Oak Decking is stocked at the Bowens warehouse, ready for purchase online or in-store. To buy oak decking, order online or visit your nearest Bowens store in Melbourne or regional Victoria today.