Join us for our first exclusive Bowens Women in Trade Event.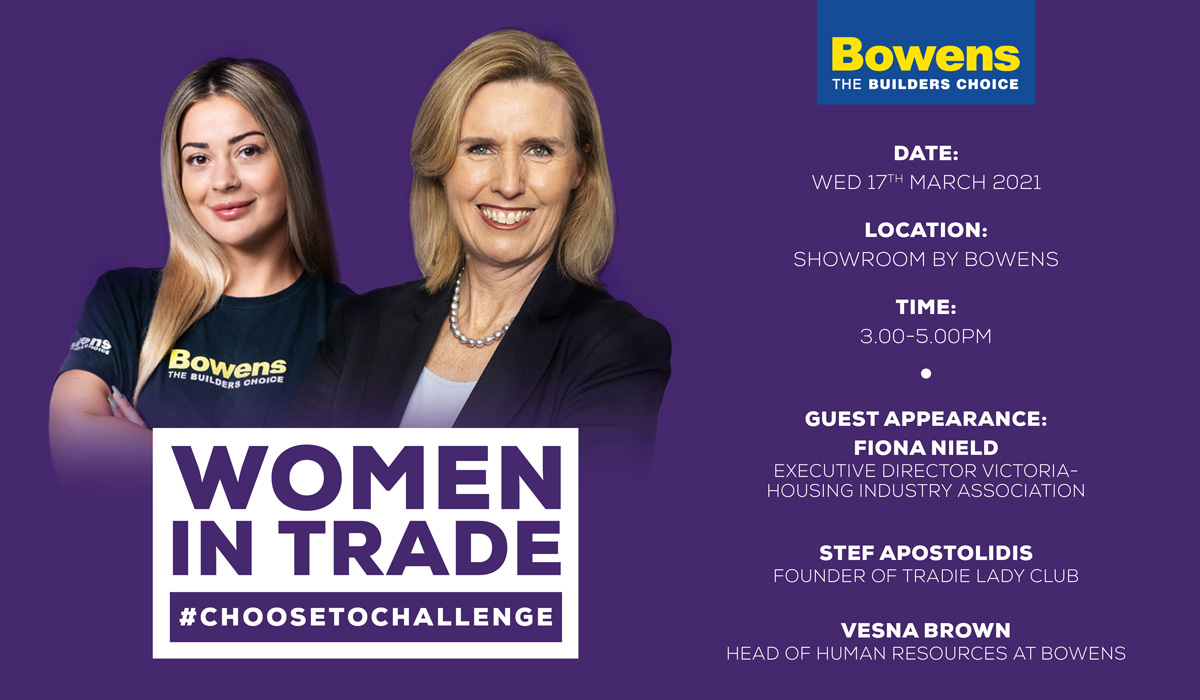 Date: Wednesday 17th March
Time: 3.00pm – 5.00pm
Introduction and Guest Appearance Q&A: 3.30pm kick off
Location: Showroom by Bowens (128 Salmon Street, Port Melbourne, 3207)
Format: Drinks and Canapes included.
All guests receive a Bowens gift valued at $100 and a complimentary Bowens Cash Account.
Guest Appearances:
Fiona Nield– Executive Director Victoria – Housing Industry Association
Stef Apostolidis – Site Manager and Co-Founder of Tradie Lady Club (TLC)
Vesna Brown – Bowens, Head of Human Resources
About this event
Join us for an afternoon of celebrating women in trade!
This event encourages like-minded women within the construction industry to connect, inspire and share their experiences.
Although this year, COVID-19 has changed the landscape in which we work, it has not changed the challenges that we, as women, encounter in the building industry. We want to help empower women in trade to support each other and rise to any challenge.
At Bowens we have actively sought to attract and retain women across the business by encouraging and supporting participation and career growth. We are proud to have grown the number of women across Bowens in recent years, however there is a lot of work to do if we are to reach gender equity – a goal we actively strive towards.
That's why we are excited to host this event, and equally excited to welcome our guests for the afternoon.
Our Guests
Stef Apostolidis – Site Manager and Co-Founder of Tradie Lady Club (TLC)
Better known as Melbourne Chippy Chick, Stef is a Carpenter and Site Manager for LGA Home Builders. She is raising awareness for women in the construction industry, founding the Tradie Lady Club (TLC), now with over 700 members in its private Facebook group. The TLC and its 16.5K Instagram followers, supports, inspires and connects women in construction and trades worldwide.
Fiona Nield – Executive Director
Fiona is a town planner, regulatory and policy specialist with a career spanning 25 years in planning, land development, building policy and housing matters. Her current role regularly deals with a wide range of urban planning, development industry, home builders, building professionals and government stakeholders to solve complex matters to improve planning and building systems.
Vesna Brown – Bowens, Head of Human Resources
Vesna started her career in Industrial Relations before moving into a generalist HR function including talent management, training and development, remuneration and benefits and organisational design.  Vesna joined Bowens in 2012 and has since enjoyed leading a team motivated to creating a high-performance environment where staff feel energised to give their best and grow their career.
To confirm your attendance, fill out the below information by Friday 12th March 2021 to secure your seat: