Together We Can #BreakTheBias
Construction remains one of the most male-dominated industries in the world; currently only 2% of the national workforce are women, according to recent Government research. As construction undergoes unprecedented growth paired with labour force shortages, there couldn't be a better time for the construction industry to tap into the female talent pool and welcome them into the workforce.
Friday saw Bowens host our Women in Trade event for its second year in celebration of International Women's Day, as we work to #BreakTheBias.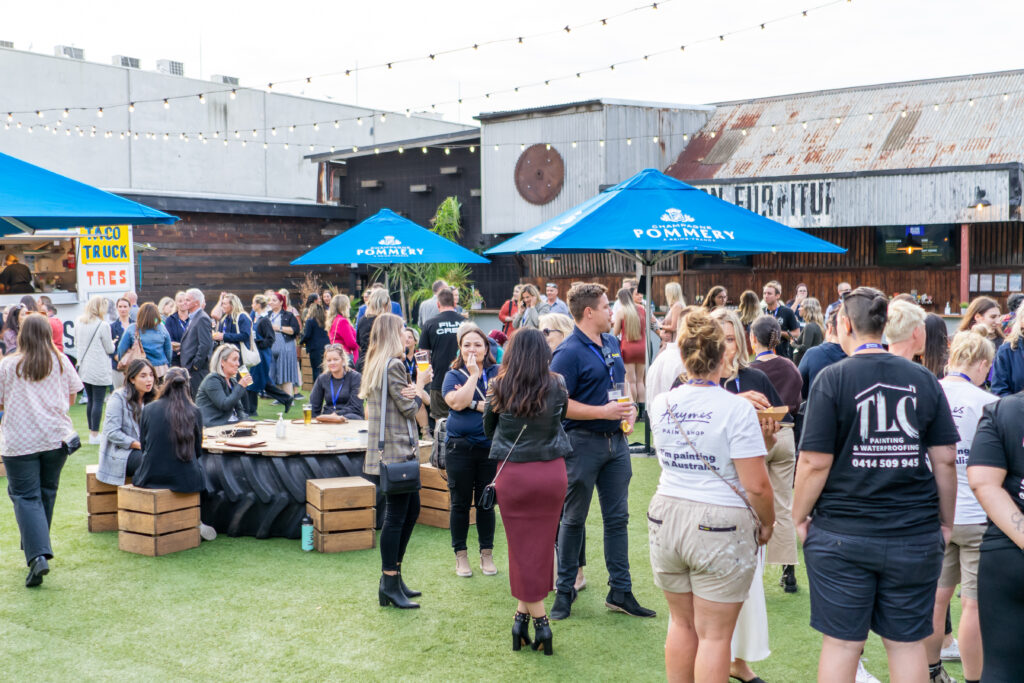 This year saw the unveiling of the inaugural Margaret Hickey Award, as well as the Belinda Jackson Award, which were both developed to recognise the exceptional work the recipients have contributed towards gender equality across construction. These awards demonstrate Bowens commitment to finding new ways to recognise and celebrate the impacts women are having within Bowens and more broadly amongst the industry.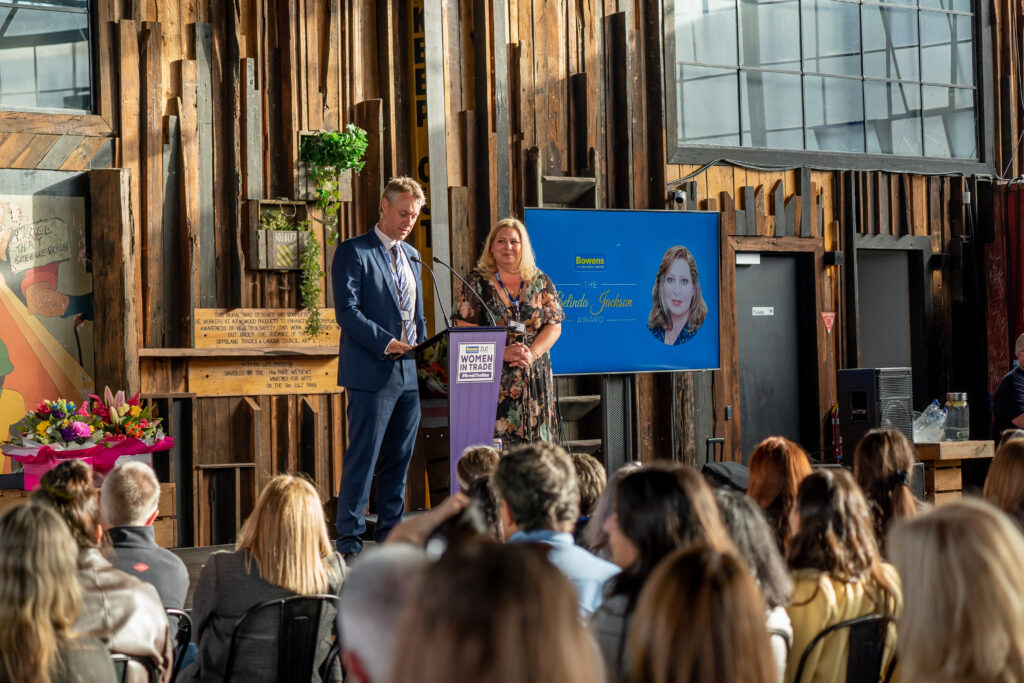 John Bowen (Managing Director) and Belinda Jackson (Operational Training Specialist) 
Addressing attendees, Bowens Managing Director, John Bowen acknowledged the importance of gender equality across the industry, emphasising Bowens dedication to creating a welcoming environment that is inclusive to all.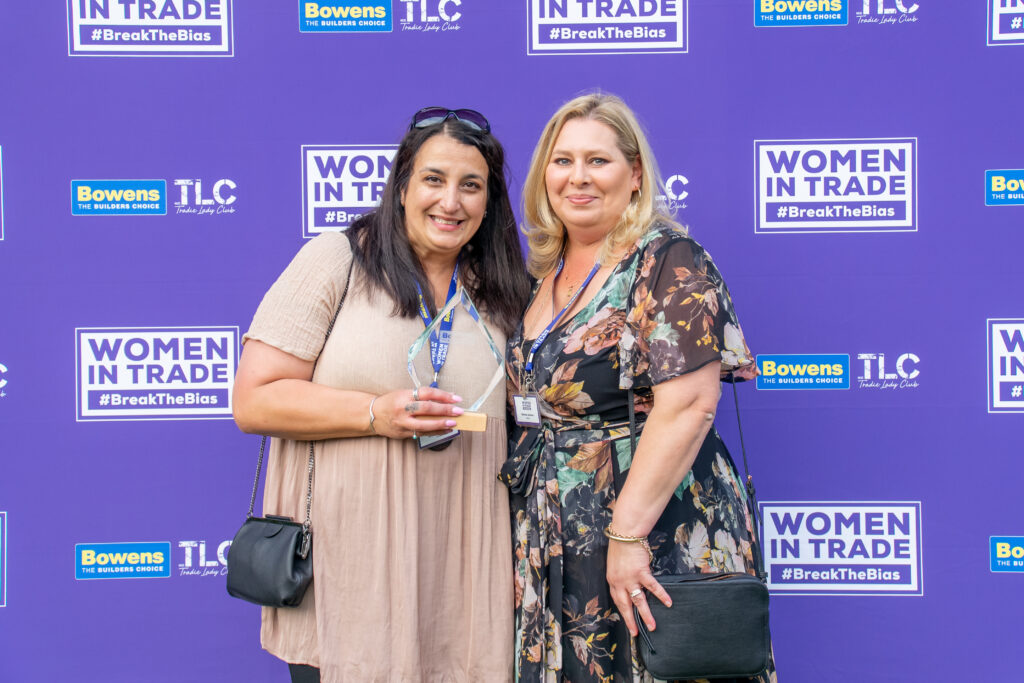 Jeanette Taliana (pictured left) receives Belinda Jackson award (pictured right). 
John Bowen presented the internal Bowens Belinda Jackson Award, to recipient, Jeanette Taliana who was recognised by her team as an incredible manager and inspiring leader within the brand.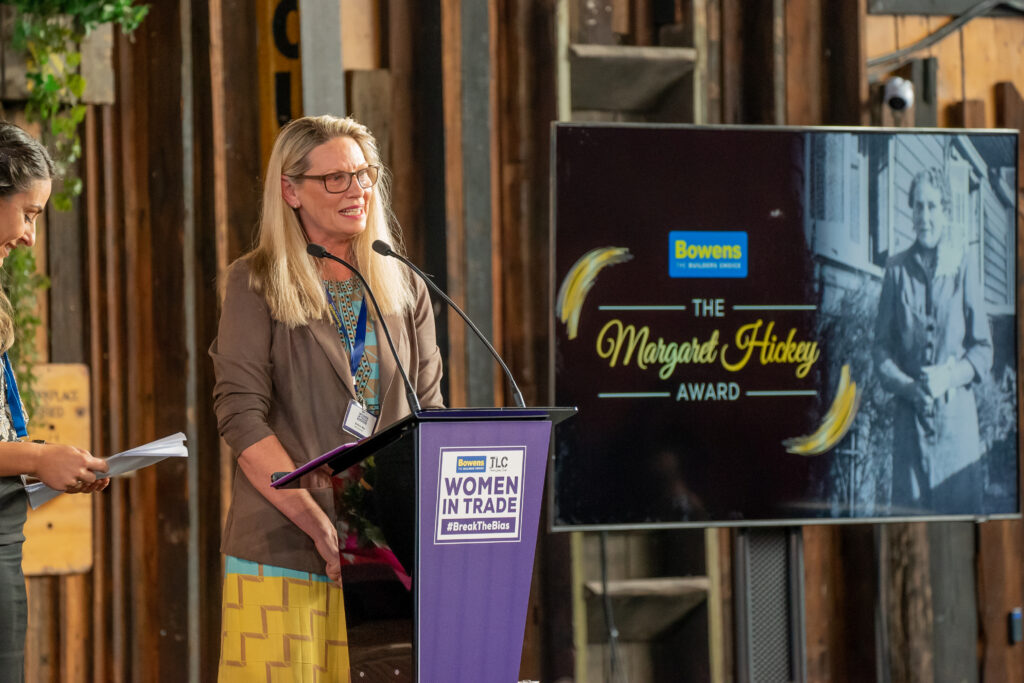 Colleen May (May Constructions), recipient of the Margaret Hickey award. 
Melbourne Chippy Chick and founder of the Tradie Lady Club, Stefanie Apostolidis, presented the Margaret Hickey Award. Winner, Colleen May of May Construction and the first female president of HIA Victoria, was described as a shining example of success for women in the building industry. Nominated for her ongoing advocacy for women in trade, Colleen was celebrated for the work she does for more vulnerable communities including displaced women and children as a result of domestic violence.
Aside from our marvellous and highly deserved award winners, attendees also heard from the panel discussion featuring the industry's most prominent female voices including Monique Burns, Bardie Somerville, Melissa Manson and Chelsea Symes, hosted by Vesna Brown, Bowens Head of Human Resources.
A major advocate for women in trade, Vesna introduced the panel with an acknowledgement of this year's IWD theme.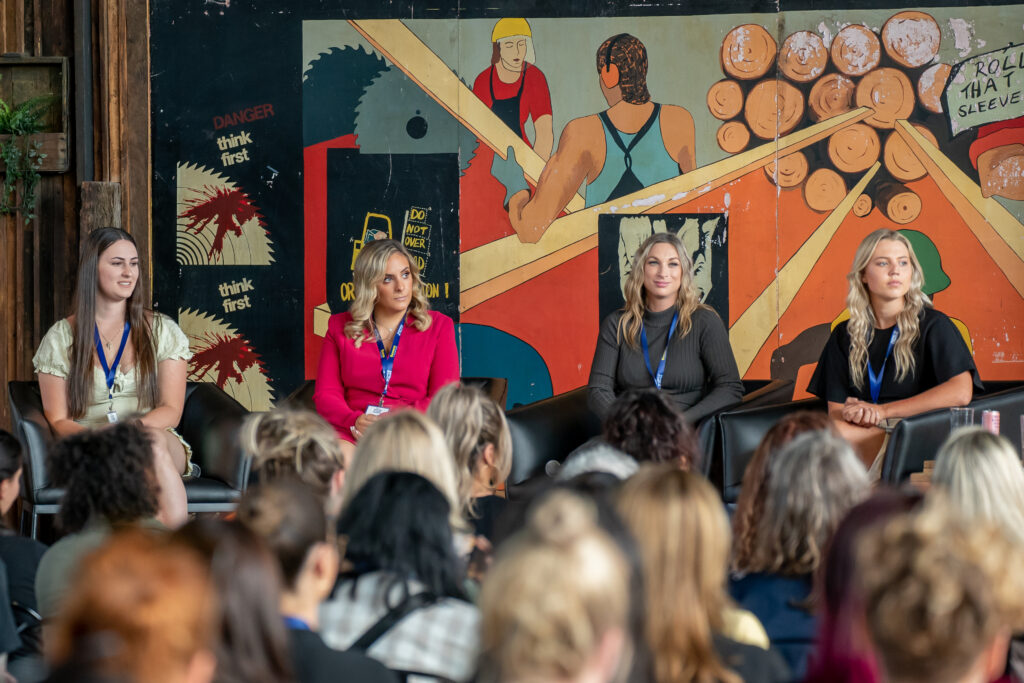 Panellists Chelsea Symes, Monique Burns, Melissa Manson and Bardie Somerville. 
"Bias has many definitions, but the most simplistic one is that bias is the unconscious inclination or prejudice for or against one person or group. Whether we realise or not, we all have our own biases. In order to recognise that in ourselves, we need to do that self reflection to do better."
Vesna continued "It would be ignorant if we didn't recognize that inherent bias exists in our industry. We can't just assume on behalf of women, we need to create a more appealing environment in order to bridge that gender inequality and close the gap."
Bowens recognises that more needs to be done within the industry to create a welcoming, stable and supportive environment for females in trade, but ultimately; that work needs to begin internally. Despite Bowens boasting female employment ratios of 23% which far exceed average industry rates, to attract and maintain strong talent, we still need to do the work to change the experience for women in trade, and make their experience as positive as possible.
Panellist Bardie Somerville put it best; women bring something to an industry that men can't and it should be celebrated.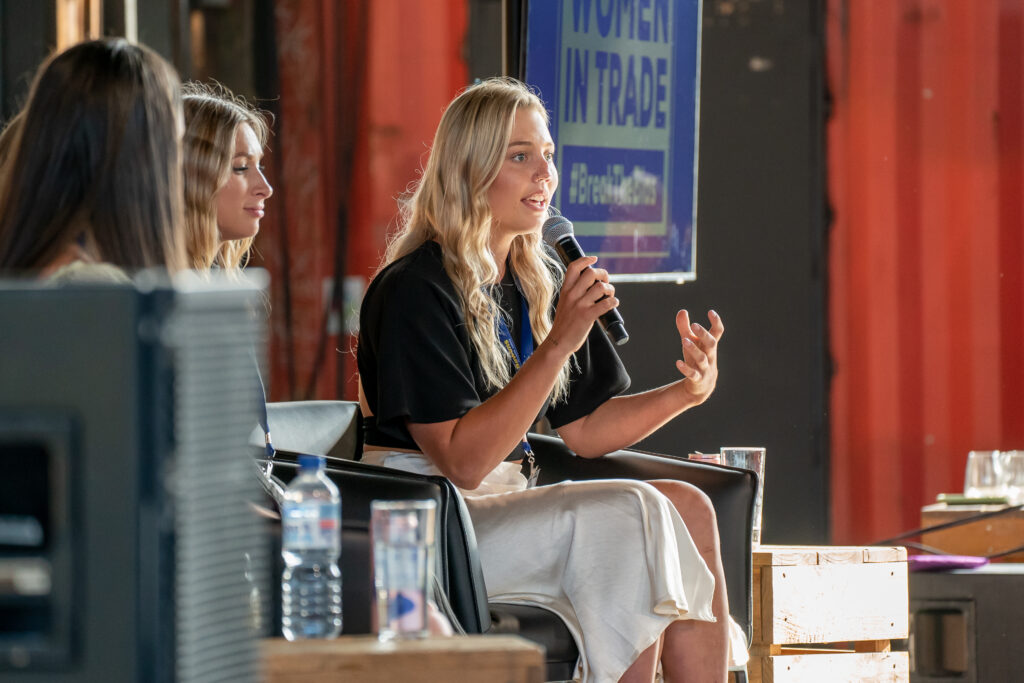 Fourth-year carpentry apprentice and social influencer Bardie Somerville. 
"Every single day I go into work, I take my perspective – what I bring to a team no one else is able to. Anyone who has had a woman on their team on site would say the exact same thing."
As more women are welcomed into the industry, the change can be felt but Bardie says more can be done. 'You can't be what you can't see. In order to attract more women, we need to make sure they can see us in order to become us. I never considered a career in trade until it was waved in my face. We need to do more to speak to young women and help them consider a career in construction.'
Melissa Manson, 2019 The Block Contestant and Contracts Administrator agreed, but says being brave is also necessary to make change in male dominated industries.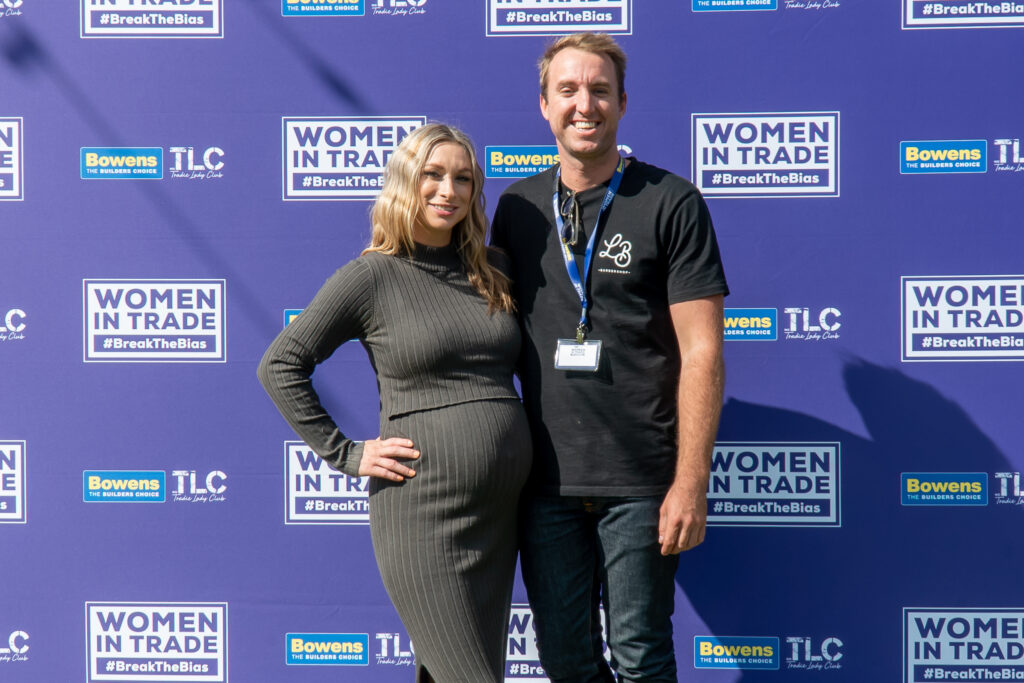 Jesse and Mel from The Block (2019). 
'Working in a male dominated industry has taught me to speak up for what I believe in and be confident in my abilities.'
It isn't just on site workers that feel the challenges associated with under representation of females. Monique Burns, Master Builders Association of Victoria, Legal Manager and Associate Legal Counsel as well as Chelsea Symes, Bowens, Internal Sales and ex Cabinet Maker agreed more needs to be done on a cultural level to disrupt bias thinking and action across construction, but also more broadly.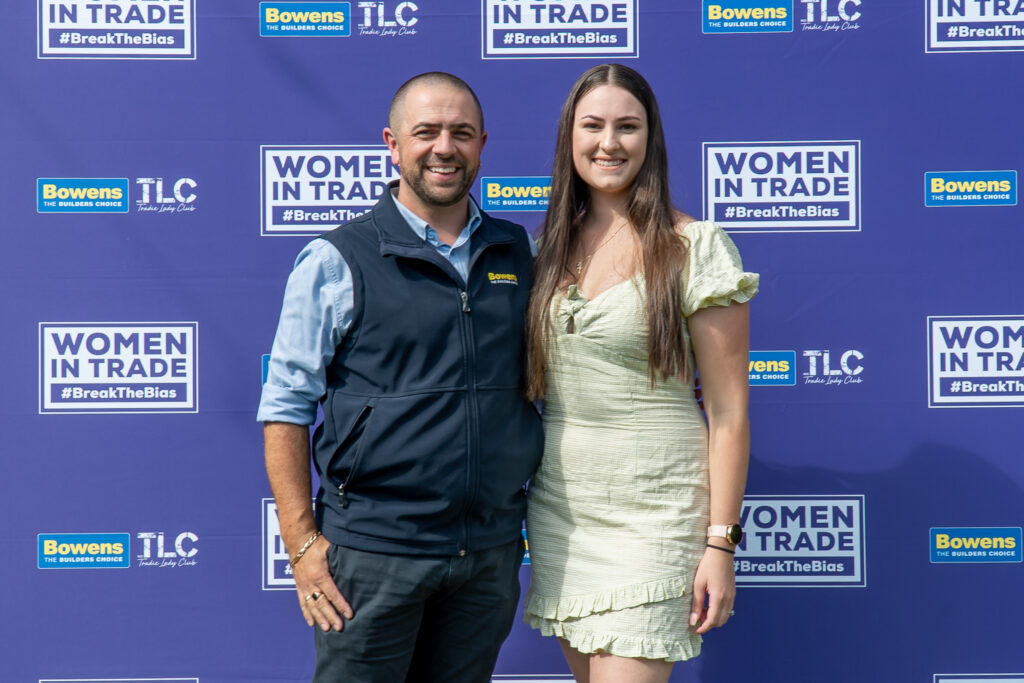 Panellist Chelsea Symes with Brunswick store manager Steve Hollow. 
Vesna closed off the event acknowledging; 'It's up to us all to help to correct gender inequality properly and address the issues that are perpetuating it at its root.'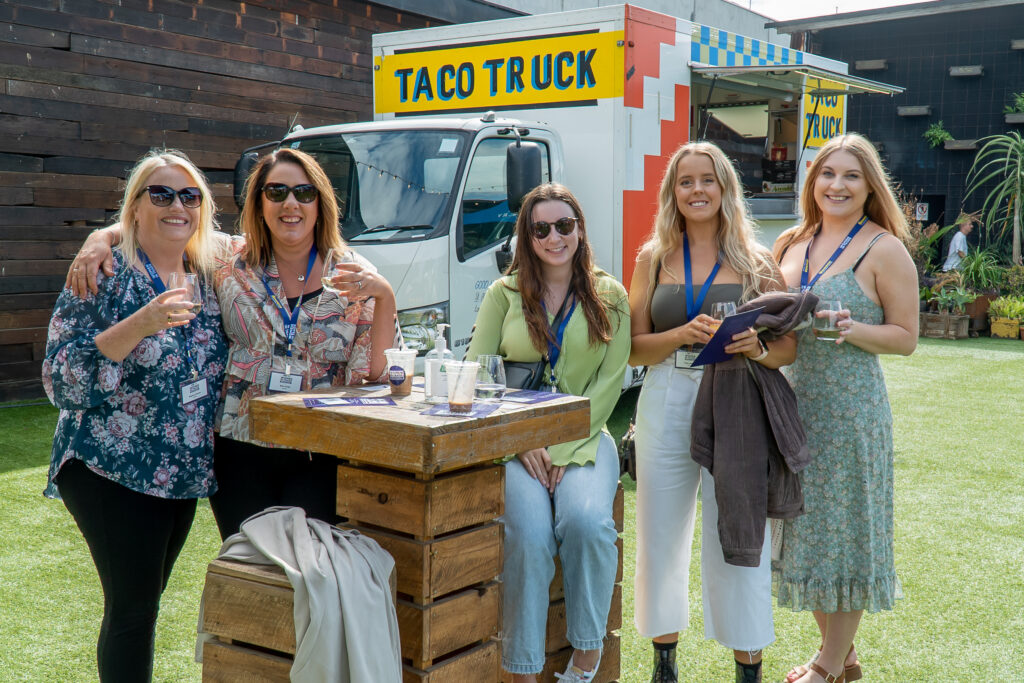 If you're interested in a career with Bowens, feel free to visit our careers page for a list of current job opportunities.